MAIN NEWS :
Now our studio to cooperate with Celebration Committee 1821-2021 of 200 years of Greek polygenesis.
---
---
Dear Customers. Due to the large number of orders for painted figures, we are accepting orders for high quality painting for January 2022.
We are sorry.
Orders for white metal kits are accepted without restrictions.

---
---
---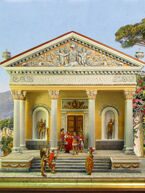 SPECIAL OFFER
DISCOUNT 25%
on the building of
the Roman Senate